Let us welcome your child (by birth or adoption) into your home! We honor this grand entrance into life by delivering another special bundle!
— ♥ —
We know you are busy so we won't stay long. It is really worth taking time out of your day to get all our free gifts, complimentary services, plus Baby's First Year Calendar! Treat yourself and your new child today!
Fill out the form below and we will call you (and hopefully not wake the baby!) to arrange a time we can deliver the goodies!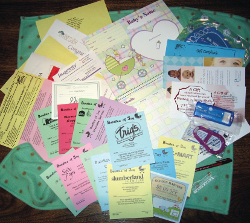 Bundles of Joy
Services These Towns and Surrounding
Areas
* Bundles of Joy also available
Eagle River WI,
Minocqua WI,
Rhinelander WI,
Tomahawk WI