May we welcome you to town? We want to be part of your housewarming!
Since you are new in town you qualify for special gifts and goodies especially designed for you!
— ♥ —
Whether you are moving in order to be near family, start a new job or retire, relocating to a new area can be very stressful; a new baby can also bring many changes to family life. Our welcome reps are eager to help both new residents and new parents adjust to their new environments.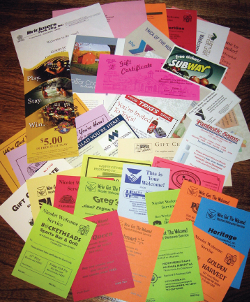 Contact Nicolet Welcome Service
Nicolet Welcome Services These Towns and Surrounding Areas
Antigo, WI
Ashland, WI
Door County, WI
Eagle River, WI
Escanaba, MI
Iron Mt., MI
Iron River, MI
Ironwood, MI
Marshfield, WI
Minocqua, WI
Phillips, WI
Plymouth, WI
Rhinelander, WI
Sheboygan, WI
Stanley, WI
Tomahawk, WI